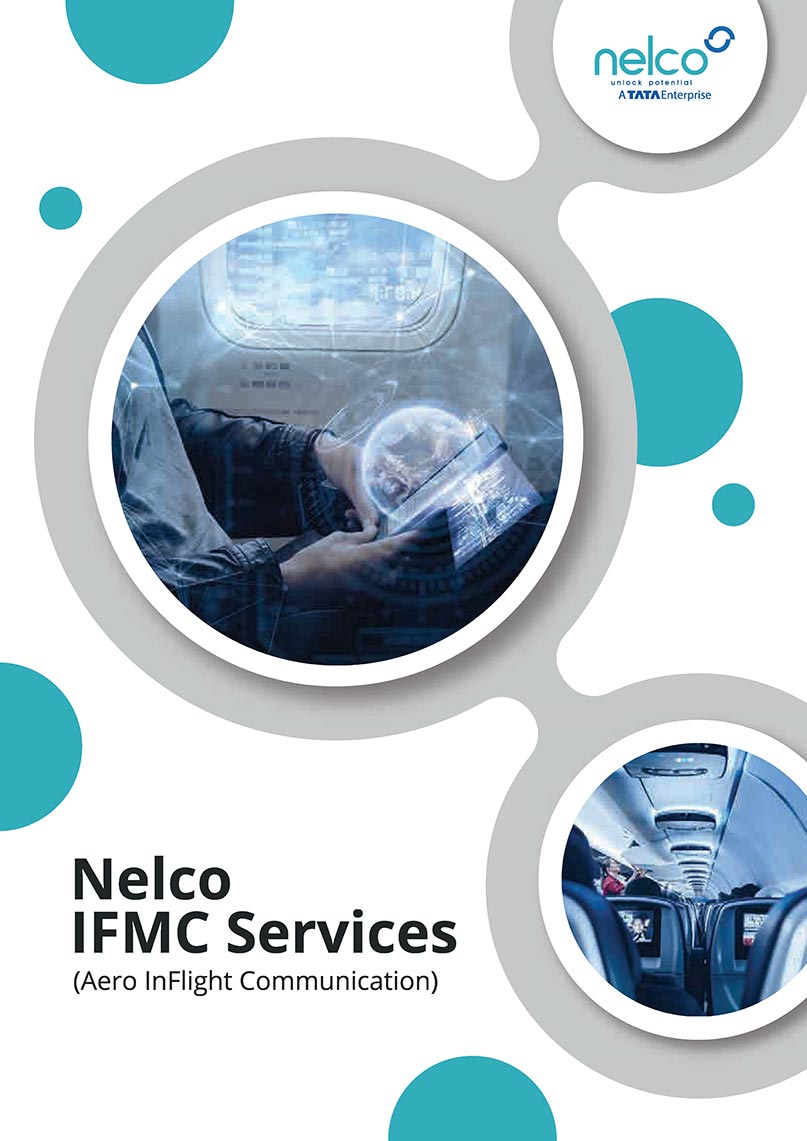 Nelco Satellite Communication Service for Aviation sector
Nelco, a Tata group company, is a major satellite communication service provider in India, providing highly reliable data connectivity solutions across the country. The Company has been playing an important role in the development and growth of some of the important industry segments by deploying VSATs for enabling business-critical applications. Nelco is focused on offering innovative digital solutions using Satellite communication in areas where it is difficult to offer these services by any other medium.
Nelco, now adds Aero In-Flight Communication service to its service portfolio.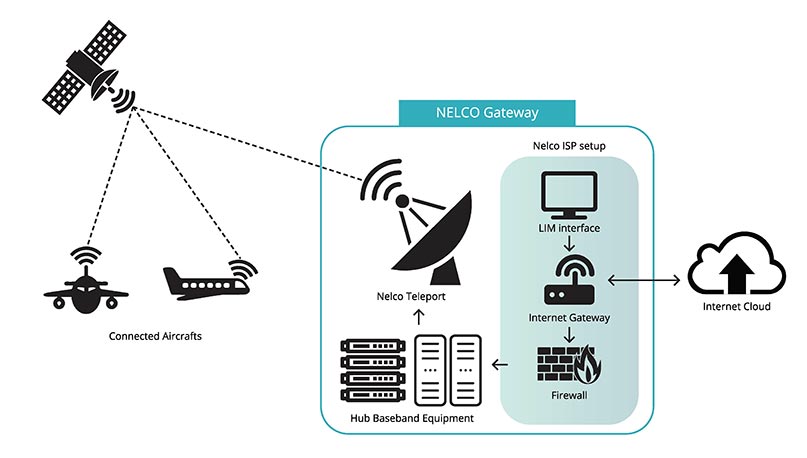 State-of-the-art technology: World class network on multiple technology platforms and Robust infrastructure for secure communications
Seamless Global coverage: Our seamless communication channels enable a reliable, efficient and continuous connection across the globe on our own or our global partners' networks
Service Flexibility: Easily customisable offerings that suit your needs, complemented by expert advice from our highly skilled and experienced professional team to ensure that you get the most efficient solutions for your connectivity requirements
Always-on, high speed uninterrupted ubiquitous connectivity: Supports broadband internet in the skies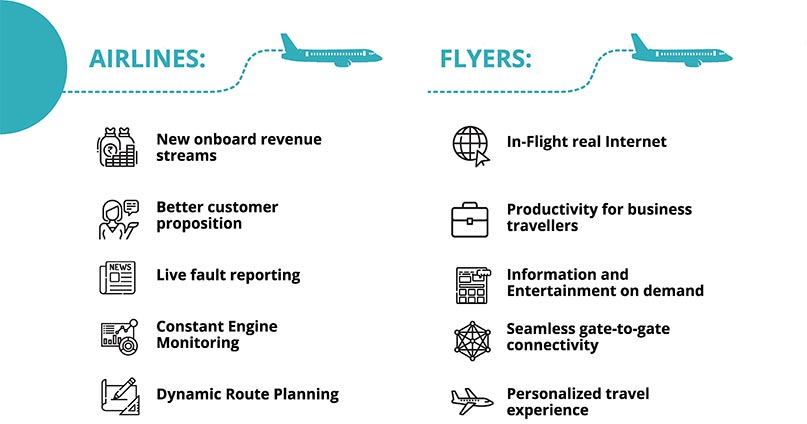 Satellite Communication: Making Skies Smarter For Aviation
Nelco is committed to connect aircrafts and flyers in unconnected skies with its high uptime lnflight communication services. Nelco's Aero In-Flight Communication (IFC) service enables the flyers to remain connected ground-like, the cockpit to get real-time monitoring and reporting and the airline to create its own differentiated brand.
Unlocking The Business Potential For Airlines:
Nelco's high quality inflight connectivity gives an opportunity for airlines to differentiate with others, enhance passenger experience, drive passenger loyalty, open up additional onboard revenue streams and optimize flight operations. Satellite communication is the key technology to unlock this market potential.
Our service also provides opportunities for airlines to more effectively manage and transmit each passenger's inflight preferences and selections, ultimately providing a far more personalized travel experience. The combination of a large time-bound audience and real time connectivity also opens up passenger engagement avenues for airlines as well as eCommerce opportunities.
Additionally, our service also enables faster turnaround for the airlines, as airplane cabin maintenance issues can be reported while in the air, in order to secure timely maintenance before the next scheduled departure. It also enables airlines to track sensor data to monitor vital operations, from fuel consumption to engine performance, paving way for operational optimization. It also offers access to real-time weather updates and dynamic route planning. Our services also enable crew onboard the aircrafts to be in touch with their near and dear ones while flying.
Nelco … Offering opportunities for both differentiation and optimization to airlines
Enabling Flyers To Unleash The Internet:
Increasingly always staying connected is becoming a necessity. Nelco's reliable service gives an opportunity for flyers to start using their time on a flight as an extension of their leisure or business time on the ground. Nelco's Aero In-Flight communication services allow seamless gate-to-gate connectivity, paving the way towards digital world in the skies. Our services unlock hours of unutilised productivity for business travelers, thereby improving their overall business productivity.
Every passenger on a plane can stay connected to the real internet. The flyers can stream their favorite entertainment programs, chat with their dear ones, access mails, post pictures on social media and shop online. The flyers can access information and entertainment on their own devices. Nelco's services can also help passengers in getting up-to-the-minute connecting flight information, real-time credit card processing and even ground services such as hotel booking, next flight reservations, car rentals, taxi bookings … and so on.
Nelco … Enabling at-home or in-office experience in the skies
Roaming Solutions
Nelco has partnered with Panasonic Avionics to ensure that the aircrafts enjoy seamless connectivity across the globe without any service disruptions. By utilizing Nelco's global services, our customers can enjoy consistent services and experience in Indian and international airspace.