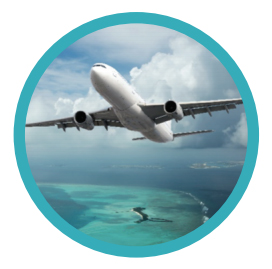 Communication today is an integral part of human life and has become lifeline for businesses globally and the aviation Industry is no exception to it. The flights in the sky need connectivity with the rest of the world and the suitable media available to enable this is the satellite-based connectivity.
In the decades since commercial satellite communications (Satcom) has evolved, the aviation industry has relied on expensive voice only connectivity or with narrowband data connectivity to passengers. In the last few years, always-on affordable broadband data connectivity for the aviation industry has taken root worldwide, using state of the art Satcom technologies. In particular, broadband VSATs (Very Small Aperture Terminals) using Satcom are providing a less expensive, reliable and secured communications on the move services for passengers, cabin crew and cockpit. This is critical in an increasingly connected world of humans and devices. The airline industry can now track its fleet, prepare its airborne aircraft for its next flight and monitor its aircraft engine and cockpit to provide safety to all aboard. Globally, the following options are available
A. Legacy voice-based L-band solutions – In the past, voice only connectivity to passengers was provided, which evolved into providing narrowband data services using L-band satellite frequency. This was an expensive service offered by one or two operators, which was prohibitively expensive. These services are short of meeting the current market demands and are outdated.
B. Broadband Satcom services – Across the aviation industry, there is a continuous growing demand for use of IP-based applications, thereby driving the need for 'always – on' broadband access. Satcom being the best option in enabling, always-on gate to gate broadband, has made its adoption easy for airlines globally. Using High Throughput Satellites (HTS) where available, affordable high-speed connectivity service globally is now being offered using Ku and Ka satellite bands. Connectivity services are now available across various types of aircraft, from commercial wide/narrow body to business jets. High speed connections to an aircraft are required for:
•Virtual Private Network (VPN) in the sky, to create an office like environment to run/access applications like ERP/CRM, email, messaging, video conference, cloud connectivity, Internet access, etc. for business passengers
•High speed broadband internet, online shopping, messaging to leisure passengers. Some services may also be made available from the airlines to the passengers to book hotels, taxi, rental cars, next flight arrangements, eCommerce and sponsored content.
•Live monitoring of key aircraft parameters for safety/maintenance activities and cabin crew activities such as preparing the aircraft for its next flight, for the airline industry. It also helps the airlines to increase its operational efficiency across its fleet
Communication services in the Indian Aviation sector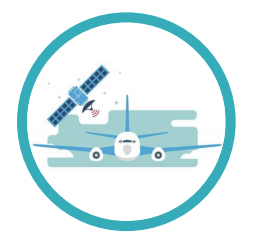 In December 2018, the Government of India came up with forward looking policy for In-Flight and Maritime Communication (IFMC) framework, allowing usage of Satcom services over Indian skies and waters. The new license has made it possible for aircrafts to maintain the connectivity they need while flying over Indian skies.
The beneficiary of the inflight connectivity services are:
A. Foreign aircrafts for getting seamless connectivity while passing over Indian skies or landing in India, by availing of the Satcom services from an IFMC service provider in India
B. Indian aircrafts operating in Indian & International territory

Airlines are finding it essential to have inflight communication to service its own operations including enhanced flight safety, in addition to passenger's needs. Airlines may adopt business models such as paid service based on limited time or full flight time to passengers and/or sponsored service via third parties for a captive audience to offer free service to passengers. Airlines may also offer free inflight communication service to selected passengers like frequent flyers or business class travellers.
Future advances in both inflight connectivity, satellites and the aviation industry could lead to some interesting possibilities such as:
•Connectivity rates of 10s of Mbps to a single passenger, from the current 10s of Mbps to an entire aircraft using HTS capacity
•Seamless roaming across the world through many satellite operators, using open architecture Satcom hardware factory fitted as an integral component of an aircraft
•5G services on board flights, seamless roaming from terrestrial 5G connectivity to airborne 5G connectivity using low delay HTS LEO constellations
•Electric powered aircraft can lead to semi-autonomous to fully autonomous transportation using satellite connectivity
•Electric powered Unmanned Aerial Vehicles (UAV) used for intelligently moving cargo around the world, relying on satellite connectivity to navigate and deliver services
•Interplay with other evolving technologies such as Blockchain, Artificial Intelligence (AI), Augmented Reality (AR), Big Data, etc. could lead higher levels of mass air transportation, security, efficiency, shorter flight times, passenger experience among others